Wind
St. Joseph Wind Project
The St. Joseph Wind Energy Project is one of 84 proposals filed with Manitoba Hydro in response to its 2007 request for proposals (RFP) for 300MW of wind power. (This RFP process is based on the Manitoba government's commitment to 1000 MW of wind energy.)
In November 2007, the Manitoba government announced the St. Joseph project had been selected and Manitoba Hydro would begin to negotiate a power purchase agreement.
View November 2004, 2007 Government of Manitoba press release
In July 2008, BowArk Energy and Babcock & Brown's North American Energy Group filed a proposal under the Manitoba Environment Act for St. Joseph Wind Energy Project (PR File #5353.00).
View information about St. Joseph Wind Energy Project from BowArk Energy
The St. Joseph Wind Energy Project is to be located in the rural municipalities of Montcalm and Rhineland south of Winnipeg, east of the Red River, and close to the US border. More than 250 landowners are involved in or affected by the project that spans 44,000 acres of land. Forty km of new access roads will be required.
An addendum to the St. Joseph Environment Act Proposal was filed June 2009. The primary change is the switch from GE 1.5 MW turbines to Siemens 2.3 MW turbines, reducing the number of turbines from 200 to 130. The new turbines have a slightly larger router diameter and are substantially quieter.
View Manitoba Government online registry for St. Joseph Wind Energy Project
View July 11, 2009 Steinbach Online.com article
The parent company, Babcock and Brown Infrastructure North America has, as of August 24th 2009, been forced to sell off its North American assets. As a result, Riverstone Holdings LLC has purchased the wind development portfolio from Babcock and Brown to form Pattern Energy Group LP, an independent, fully integrated energy company that develops, constructs, owns and operates renewable energy, now including St. Joseph Wind Farm Inc. The Wind farm project is still planned to go ahead as there has been no indication otherwise, but there are no new developments as to when construction will begin or if it will be on the same scale as was originally expected.
St. Joseph's No Longer Largest Wind Project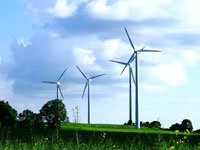 At a November 2009 Manitoba Legislature crown corporations committee hearing Manitoba Hydro announced the proposed St. Joseph's wind project will be less than half its original size.
After a year long delay due to financial problems with the parent company Babcock and Brown, the Pattern Energy owned St. Joseph's wind project is going to produce only 138 megawatts of energy compared to the 300 megawatts originally planned.
St. Joseph's wind project was going to be the largest wind project in Canada and decrease in size will affect revenue for municipalities and landowners involved. The decrease in generation also effects Manitoba's goal of reaching 1000 MW of wind energy by 2015, since nine other licensed wind projects have been put on hold.
Pattern Energy is apparently looking to the Manitoba Government to subsidize the project, an act not all officials agree with. Manitoba Hydro says the power purchase agreement is almost complete.
View
Manitoba Legislative Assembly Transcripts for Nov 17, 2009
(PDF)
View
November 14, 2009 Winnipeg Free Press article
View
November 18, 2009 Winnipeg Free Press article
View
November 19, 2009 Steinbach Online.com press release
Source: Winnipeg Free Press, Steinbach Online, Manitoba Legislative Assembly
St. Joseph Wind Project Receives New Backing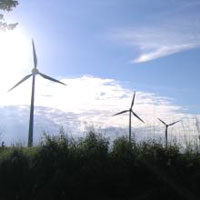 Premier Greg Selinger announced in March 2010 the St. Joseph's wind project in southern Manitoba, west of highway 75, and just north of the US Canada border, will go ahead. The 138-megawatt wind project got the go ahead with a 27- year power purchase deal between Manitoba Hydro and Pattern Energy Group.
St. Joseph's wind project have been in the works since 2008 but were on hold due to parent financing company Babcock and Brown financial difficulties. Pattern Energy of San Francisco bought Babcock and Browns projects including the St. Josephs project. The project had been downscaled from its original 300 megawatts to 138 mw, including a change in type of wind turbine.
Pattern Energy will invest $95 million and Manitoba Hydro will loan 260 million to the company. Construction is to be finished by spring 2011 with 60 turbines up and running.
View
Public Registry for St. Joseph Wind Energy Project
View
March 4, 2010 Red River Valley Echo news article
View
March 21, 2010 CBC News article
View
March 22, 2010 Manitoba Government press release
View
March 24, 2010 Project Finance article
Sources: CBC News, Manitoba Government